Rumba Flamenca
Rumba Flamenca is perhaps the most simple flamenco style, since it always bases on "easy to learn" chords; it's most often performed by 2 or more guitars, one plays solo, and other the rhythm, because the rhythm complexity doesn't allow for more elaborated solo guitar arrangements. It's in 4/4, but it's binary rhythmical structure in flamenco evolved into very special right hand patterns. The accented beats in rumba flamenca are 1, 2e, and 4, (2e is the second quaver of the second crochet). Being the most spread flamenco style over the Iberian peninsula, played by almost every street band called "Los Rumberos", rumba flamenca also became the principal export flamenco product for the world music scene from the 1960's, when Fascist regime ended, and Spain began opening. Rumba also influenced other music and inspired various fusions between other musical styles more than any other flamenco palo. The use of percussion on the guitar front board is probably the most pronounced in rumba playing style, with the different "golpe" hits. The right hand always involves parts of strumming rasqueado techniques, combined with different "golpes" into a circular rhythmical pattern. Harmonic center is the tonic-alised harmonic minor dominant chord with the minor 9th, and the most used consonances are the minor tonic, the subdominant, and also from natural minor, the 7th and the 6th degree chords.
From the beginning of the 19th century in Spain, with the classical guitar coming to the world music stage and being played more and more in the elite society, the gypsies rapidly adopted this new 6 string instrument as their own. Started populating western Europe from the east during the Moz-Arabs ruled in the 12th century, these gypsy "guests" that remained after the 15th century Christian conquistadors in 1492. (Castilla and Toledo alliance expelled (almost) all Jews, Arabs, and Gypsies), were still traveling nomads that were now spreading their spirit of freedom over just the Iberian peninsula. Their nomadic freedom ideology under years of repression created the very essence of the Flamenco culture.
Rumba Flamenca guitar playing style came from their different approach to this newly emerged and perfected 6 string instrument. Instead of performing it plucking the strings by pulling and releasing them with the fingers (like classical guitarists, which would require a certain level of precision and fingernails hygiene); their approach to it was much more crude. They started using the whole body of the guitar as a percussion instrument, hitting the front board to create sound and playing the "golpe" hit, paving the way for the "golpe" protection plate to appear. But the most important is that they invented a whole new technique from scratch, hitting the strings with the top of the fingernails with circular repetitive motion; using as a pivot base both the wrist, and the finger base joint with the anchored thumb. Therefore creating the base of the "Rasqueada", as opposed to "Punteada" guitar, (today being the flamenco and the classical guitar).
– Choosing The Flamenco Guitar –
Rumba Flamenca Lessons:
Flamenco Guitar Lessons reveal secrets, tips and tricks for mastering flamenco guitar, through a set of very comprehensive video tutorials on: Harmony, Techniques and Styles (Palos). The technically rich Iberian legacy brought every single classical guitar technique into the world of flamenco. That's why the flamenco guitarists today are on the technical front lines, widening flamenco language and achieving the impossible. On the other hand, the strict classical guitar world, waiting for some piece to be written to embed the technique into the classical guitar heritage, is still late to adopt many fantastic flamenco techniques. Therefore we explore the most important from both worlds. A special software called the Loop Player, will enable you to effectively learn flamenco rhythm (compás) by playing along the highest quality flamenco percussion samples…:
The Flamenco Percussion Samples Database will help you get the clearest picture about the compás, but you an also play along and practice with the highest quality "organic" samples of cajon, palmas, shaker, djembe, congas, bongos, maracas, and all the most used percussion instruments in flamenco. The library is designed for understanding the compás, but also that you can practice over the rhythm, directly feeling it, and immediately playing flamenco. Every beat is marked with a yellow vertical line, and a group of beats to consider while counting is highlighted with green, so you can easily see what is where, and develop a feeling for the rhythm.
All the videos are in Full HD resolution with option to choose the language, between English and Spanish audio.
Considering the fact that many guitarists have a lack of understanding of the importance of nails, there is a full chapter of video tutorials that will teach you how to properly form and maintain your nails, in order to achieve the rich flamenco tone and properly play the true Spanish guitar finger technique.
Thousands of satisfied customers..!
Nicolas:
A live online video lesson is done via any video conference software (Skype, WhatsUp, Hangouts, Viber…) and any webcam you might have will do, since there is no need to see you in high definition. With two video cameras and a high quality pre-amplifier with paired HQ condenser microphones, I can send you the highest quality audio & video, so you can record the whole lesson. We can do it before you start practicing, but having in mind that your perception will get better after you start entering the matter, it would be best to do it in approximately 2 weeks after you subscribe. Of course, please talk to me for personalized instructions on how to start…
Now is the perfect time!
Comments: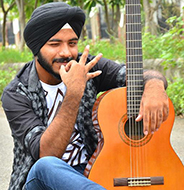 Tarandeep Singh
New Delhi, India
Needing clear and healthy comparison between Indian Sitar, and Spanish Guitar, this course is exactly what i wanted. The nails tutorials are a true wonder! But the personalized approach from Nicolas is the best thing ever. There are fantastic video links, and extremely helpful information on the Nicolas BLOG pages, thank you!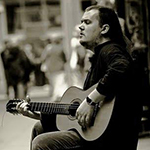 Marko Kovacevic
Zagreb, Croatia
Nicolas has an unique experience and unique approach as a teacher of flamenco guitar. The lessons are very deep and profound and almost idealistic, and although i am a professional player, Nicolas's style and unique approach tingles me in a deep sense. Here you will find everything essential for flamenco.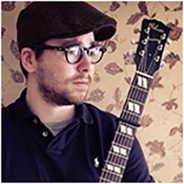 Alexander Dmitrienko
Moscow, Russia
Although I enjoy playing a completely different style, I've stumbled upon this school on YouTube and was quickly entangled in it by it's great approach and attractive style. I use Spanish techniques now in my Bluegrass and Country guitar playing and it's a wonder to everyone!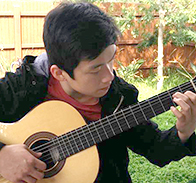 Zach Lim
Kuala Lumpur, Malaysia
I am taking private online lessons with Nicolas, so I am perhaps to subjective. However, I learned harmony, in like a few days, and we often laugh on a subject, I got the best teacher on the planet! Honestly, not just because of his educational background, but because of his high spirit, and especially the site; armed with such quality videos, and the Loop Player software, Nicolas is probably the best teacher you can find online.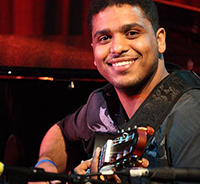 Hamanino Albahraini
Manama, Bahrain
In Bahrain we love flamenco a lot, it is harmonically very similar to our national music. The flamenco samples loop player is fantastic for playing in the compas, I love it! Maestro Nicolas is the best!
Comments
comments