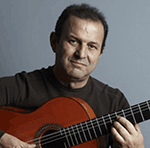 Gerardo Nuñez is truly a fantastic musician. Coming at the moment in which the flamenco guitar evolved significantly, he was still able to contribute significantly to further evolution. Some of his pieces are so elaborate and so difficult, that they are a technical nightmare for performance. His phrasing and composing are very guitaristic like, the melody is often made of left-hand "legatos" and various ornaments that are exclusively guitar material. Paco De Lucia said that it's too difficult for him too, so it made me feel better a bit. Gerardo Nuñez also evolved quite significantly like a producer and arranger through his carrier. Compared with one of his first works, the album "El Gallo Azul" (The Blue Cock, (rooster)), one of his latest works, album "Jucal" is a masterpiece regarding the quality of the musical production.
To turn on English subtitles, first click on "CC" button, (down-right in the YouTube window, underlined with red means "subs on"), and turn on Spanish subs first. Then click on a "small gear", next to it, and select "auto translate", select: English, and it will display the subtitles immediately translated to English. The translation is terrible, but it's better than not having any…

Gerardo Nuñez es verdaderamente un musico fenomenal. Veniendo en el momento en el cual la guitarra flamenca evoluciono bastante, el todavia pudo contribuir significantemente a la evolucion. Algunas de sus piezas son tan elaboradas y dificil, que son una pesadilla para tocar. Su fraseo y composicion es muy guitarrista, la melodia esta echa de legados y ornamentos que son exclusivamente el material guitarrista. Paco De Lucia dijo que es demasiado dificil para el tambien, me ha echo sentir mejor un poco. Gerardo Nuñez tambien evoluciono mucho como productor y compositor durante su carrera. Comparado con uno de sus primeros trabajos, el álbum "El gallo azul", uno de sus últimos trabajos, el álbum "Jucal" es una obra maestra en cuanto a la calidad de la producción musical.