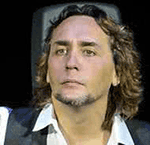 This Vicente Amigo Rumba is so light, that a principal motif has a harmonic "elliptical sequence". This subject is explored in "Advanced "Harmony tutorials. Vicente has produced this album already having a great experience, with the best musicians in Spain, open to new trends and fusion. Unfortunately, it came out at a moment that didn't allow it to get the attention that it really deserves.
Somehow, flamenco today comes in like – waves, coming and going out of the spotlight periodically, every few years or so, that nobody understands why. Thanks to the art of the pop cant author Pedro Aznar, (who sings and plays the piano, btw…) this motif is so commercial, and light. This album "Mudras Canciones De A Dos" made a significant step in the quality of production in flamenco, and reached the highest levels in many aspects, continuing to inspire us until today…

Este Vicente Amigo Rumba es tan lijero, el motivo principal tiene una "secuencia elíptica" armónica (exploraremos ese tema en los tutoriales de Armoia Avanzada). Vicente ha producido este álbum ya teniendo una gran experiencia, con los mejores músicos de España, abierto a las nuevas tendencias y la fusión.
Desafortunadamente, salió en el momento que no le permitió obtener la atención que merece verdaderamente, porque el flamenco de hoy viene como en olas, veniendo y saliendo de la las luzes de la escena, cada un par de años, más o menos, sin que lo entienda nadie. Gracias al arte del autor de canciones de pop Pedro Aznar, (quien también canta y toca el piano, por cierto …) este motivo es tan comercial, y tan ligero. Este álbum "Mudras Canciones de A Dos" dio un paso importante en la calidad de la producción en flamenco, y alcanzó los más altos niveles en muchos aspectos, continuando inspirándonos hasta hoy dia…